Increase your ability to see
Do not think about the limits of your equipment, focuse on your goal. Bright light from the searchlight reduces feeling of tiredness, increases ability to see details, improves efectivity and safety. You can maximize the usefulness of your LEMAX searchlight by using of wide range of accessories.
Clearly see terrain up to
4250 m ( 2,6 miles ) away with LX70 SUPERPOWER !
2250 m ( 1,4 miles ) with LEMAX LX70
1450 m ( 0,9 miles ) with LEMAX LX50 II
LEMAX high end technology produces exceptional beam geometry. Special reflector coatings ensure the maximum performance.
Switchable power gives you flexibility when you need it.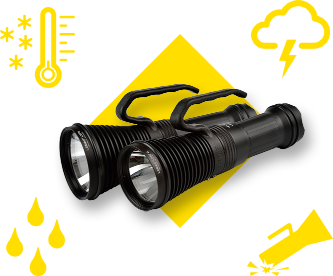 Rugged
LEMAX Searchlights are built to be 100% reliable even in the harshest conditions.
From extreme cold -20°C ( -4°F) to extreme heat 60°C ( 140°F )
Deep water pressure 50m
Impact shock and penetration hazard.
Our specialized reflectors and heat sink body design prevent overheating even on a high-power continuous burn. LEMAX Searchlights meet or exceed all European and US military and industrial specifications for durability.